Vimworthy's Patented Swarm Eliminator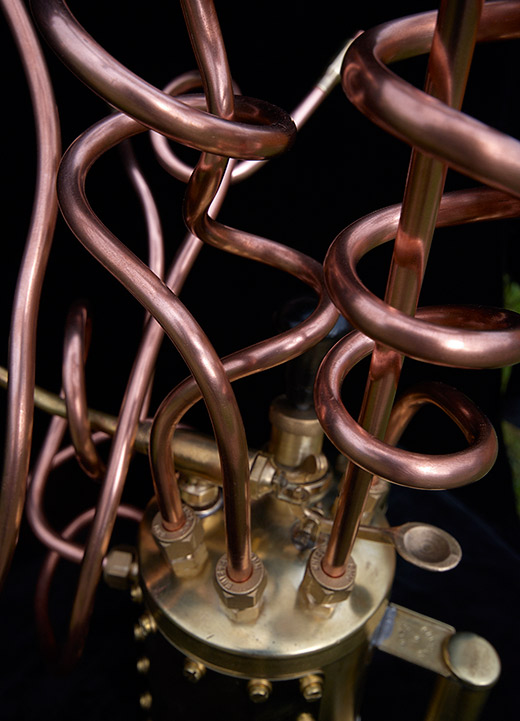 (Click on any image to enlarge)
Are you having trouble with swarms (wasps, mosquitos, elephants....)??
If so, let Vimworthy's Patented Swarm Eliminator come to the rescue - with it's fearsome array of omni-directional high-powered spray nozzles, assisted by a pre-heating boiler and super-heater coil, you can head straight into the centre of the swarm, confident in the knowledge that you will take out the whole swarm with one squirt!

Materials: brass, copper, shell cases, "Dron-Wal 5/P" compressed-air sprayer, Tecalemit "Cycle Gun" grease gun
Dimensions: 12" x 17" x 22" (30cm x 43cm x 56cm)
Weight: 9lb (4kg)
This piece was displayed at the "Manifestation" Art Exhibition at Steampunk Doncaster, the Art Exhibition at the Asylum V Steampunk Festival, and the Rowland Emett Society Convention. It was also shown as part of Oxfordshire Artweeks, along with its partner, "The Concentrator". The pair have been seen again together at the Tetbury Sculpture Exhibition and the Savill Garden. In September 2017, they were shown at Kempton Steam Museum in London, and have also been on long-term display at Living Art, Hungerford. In August/September 2020, they were seen at Spetchley Park Gardens. From October 1st 2020, 'Vimworthy's...' was seen at the Gallery of the Gloucestershire Guild of Craftsmen in Cheltenham, until September 2021, from when it was on view at Rodmarton Manor. In August/September 2022, it can be seen again at Spetchley Park Gardens.
This piece also featured in the article entitled "The Science & Art of Domestic Bliss" by Nigel Williams in the Surrey Sculpture Society magazine "Limited Edition", which you can read here (2.8Mb PDF).
If you would like to buy any sculptures or are interested in including work in an exhibition, please contact us for details of viewing and/or shipping arrangements.
New sculptures are being created all the time, and pieces can be sold or go off to exhibitions at any time, so please check back here regularly for updates.
For details of exhibitions of work by Nigel Williams, please click here.