The Pot-o'Tea'n Still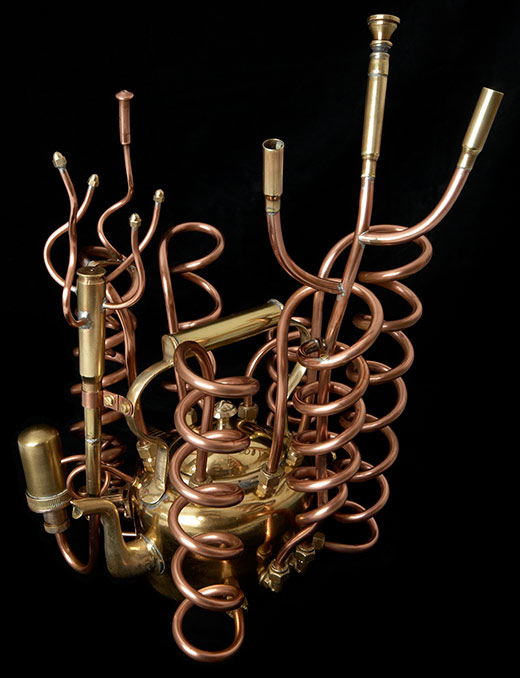 (Click on any image to enlarge)
You're probably aware of the illicit Irish whisky known as 'poteen', often made from potatoes. Well, if you fancy some whisky, but are quite partial to a decent cup of tea as well, you might be interested in combining the two using this device - the "Pot-o'Tea'n" Still. Tests have shown that 90%-proof Earl Grey could soon be a reality on your dining table!

Materials: copper kettle, church-lamp parts, brass, copper, shell cases
Dimensions: 16" high x 12" wide x 12" deep (45cm x 31cm x 31cm)
Weight: 7lb (3kg)
This piece was displayed as part of Oxford Artweeks. It has also been seen at the Buckinghamshire Arts Society Spring Exhibition and Fringe Arts Bath. In September 2017, it was shown at Kempton Steam Museum in London, and is currently on display at Living Art, Hungerford.
If you would like to buy any sculptures, enquire about editions of sold pieces, or are interested in including work in an exhibition, please contact us for details of viewing and/or shipping arrangements.
New sculptures are being created all the time, and pieces can be sold or go off to exhibitions at any time, so please check back here regularly for updates. If you would like to join our mailing list for regular news, please use the panel at the bottom of the menu on the left.
For details of exhibitions of work by Nigel Williams, please click here.