Phalaenopsis jordanii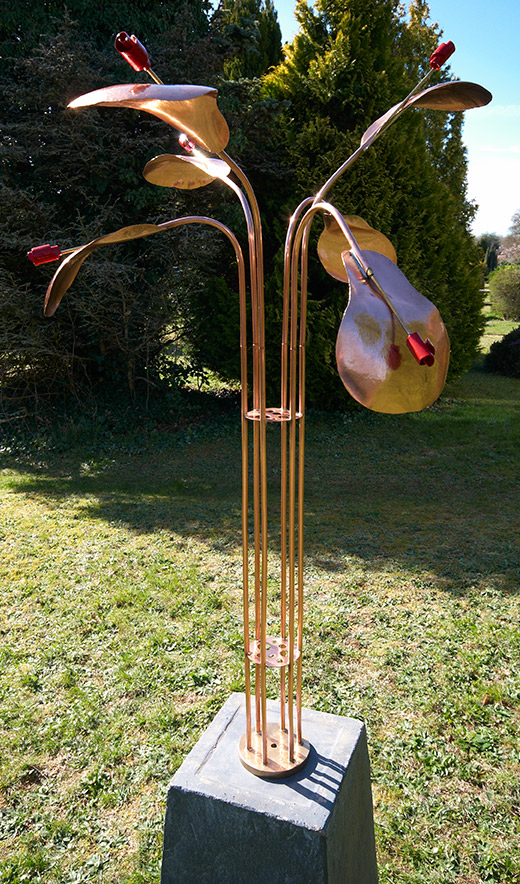 (Click on any image to enlarge)
I seem to have moved from making botanical pieces from discarded armaments, to making botanical works that look like armaments! The faux botanical name for this piece is derived from a genus of orchid ('Phalaenopsis') together with the middle name ('Jordan') of the gentleman who invented the Gatling Gun, Dr. Richard Gatling - because the ways the stems are constructed and held togther looks a little like a Gatling Gun, stood on end. Incidentally, Jordan is also the name of Dr. Richard Gatling's father, who was a planter. I was quite taken with Richard Gatling's stated objectives in creating his fearsome weapon: "It occurred to me that if I could invent a machine – a gun – which could by its rapidity of fire, enable one man to do as much battle duty as a hundred, that it would, to a large extent supersede the necessity of large armies, and consequently, exposure to battle and disease [would] be greatly diminished." I suppose you could consider this alongside the modern-day nucleur bomb, which causes so much destruction that world powers are frightened to use it - thus maintaining the status quo... and then the little guys get hold of it.....
Materials: copper, brass
Dimensions: 29" x 27" x 42" (74cm x 69cm x 107cm)
Weight: 5lb (2Kg)
This piece has been seen at Altered States and Avebury Manor.
If you would like to buy any sculptures or are interested in including work in an exhibition, please contact us for details of viewing and/or shipping arrangements.
New sculptures are being created all the time, and pieces can be sold or go off to exhibitions at any time, so please check back here regularly for updates.
For details of exhibitions of work by Nigel Williams, please click here.