Alchemic Extraineometer MkVII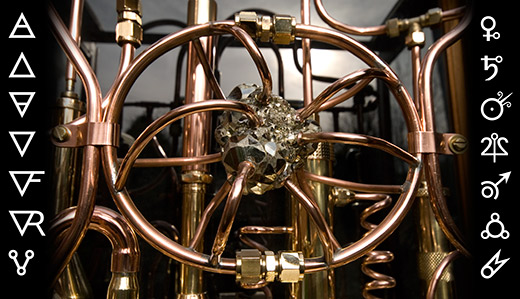 (Click on any image to enlarge)

This piece is the first in a series of purposeless scientific instruments. It taps into the ancient art (science?) of alchemy, invoking wonder at its purpose, and hopefully a desire to learn more about the mysticism of it all - and perhaps to question how much some of the Edwardians really did know about science?
The golden crystal (marcasite!) at the heart of the machine could be the source of the wondrous material emitting into the output receptacle.... or it could be the other way round, and the material from the receptacle is being imbibed to turn the iron pyrites ('Fool's Gold') into real gold..... perhaps this device embodies the secret processes that have been sought by mystics and scientists for centuries.... I've no idea.

Materials: brass, copper, marcasite crystal, Griffin & Tatlock wood/glass case, grease guns, shell-cases, pressure-gauge, wheel-bearings, cooker parts, bed-frame parts, taps, etc
Dimensions: overall, in case: 21" wide x 11" deep x 20" high (52cm x 27cm x 49cm)
Weight in case: 30lb (13.5Kg)
Weight in case in crate: 50lb (23Kg)

The Griffin & Tatlock laboratory case is at least 65 years old, and most likely a good 20 years older than that (c.1935). An identical one, containing a beam scale very similar to that which this case used to house, lives in the collection of the Science Museum. Wonder if they'd like this one...?

The Alchemic symbols shown around the main image are as follows:
Left, from top: 🜁 Air, 🜂 Fire, 🜃 Earth, 🜄 Water, 🜅 Aqua fortis, 🜆 Aqua regia, 🜉 Aqua vitae
Right, from top: 🜠 Copper, 🜪 Lead, 🜚 Gold, 🜾 Bismuth, 🜝 Iron, 🜛 Silver, 🜸 Marcasite (iron pyrite).

To protect the glass of the case whilst in transit, this piece has had a robust transport crate constructed for it.
If you would like to buy any sculptures, enquire about editions of sold pieces, or are interested in including work in an exhibition, please contact us for details of viewing and/or shipping arrangements.
New sculptures are being created all the time, and pieces can be sold or go off to exhibitions at any time, so please check back here regularly for updates. If you would like to join our mailing list for regular news, please use the panel at the bottom of the menu on the left.
For details of exhibitions of work by Nigel Williams, please click here.