Arkington's Steam Pico-Brewery
"It's fantastic, small scale and so detailed and absorbing."
Abi Stubbings, Crafter/Crofter - Outer Hebrides, Scotland, UK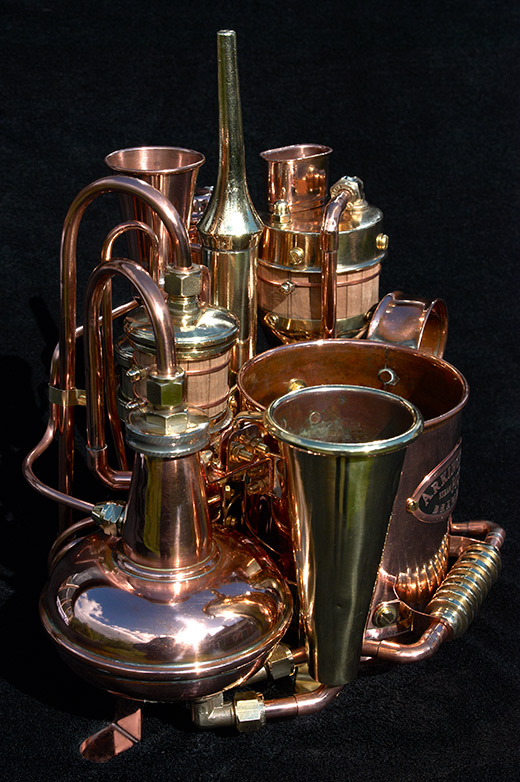 (Click on any image to enlarge)
This device roundly trumps another batch of untrustworthy tradesmen in the continuing campaign to improve the lot of the wealthy Edwardian middle-class: this time it's the turn of the brewer, maltster and publican! Get your barley, hops, and yeast ready, and you will have a splendid pint of beer ready to drink in front of you in no time. It includes its own maltings, so no need to bother with the maltster, and obviously no need to enter one of those dens of iniquity, the public house, to get your beer.
We'll overlook the fact that you could hardly lift the contraption when it's full and working, and if you tried to drink out of it, it would probably spill spent grist and hops all over you, and likely poke your eyes out at the same time... but otherwise, it's a tremendously useful machine, offering a significant improvement to the comfort of the Edwardian household!
I love the appearance and atmosphere of the traditional gravity tower Victorian brewery, and I think I've managed to capture that to a certain extent in this piece - although mine obviously wouldn't work by gravity, because the feeds go out of the base of one process into the top (alongside) of the next, it still looks like it might - particularly in the image at the top of this page.

Materials: brass, copper, walnut, grease guns, sprayer parts, horns, lamp parts, etc
Dimensions: 12" wide x 9" deep x 12" high (30cm x 21cm x 30cm)
Weight, dry: 8lb (3.7Kg)
Weight, working: 14lb (6.3Kg) (theoretical!)
This piece was shown for the first time in the Gloucestershire Guild of Craftsmen exhibition at Rodmarton Manor in September 2021.
If you would like to buy any sculptures or are interested in including work in an exhibition, please contact us for details of viewing and/or shipping arrangements.
New sculptures are being created all the time, and pieces can be sold or go off to exhibitions at any time, so please check back here regularly for updates.
For details of exhibitions of work by Nigel Williams, please click here.