Practical Hat Opera Glasses
"Amazing, funny, and so well done"
Marie Shepherd, Sculptor - Oxfordshire, UK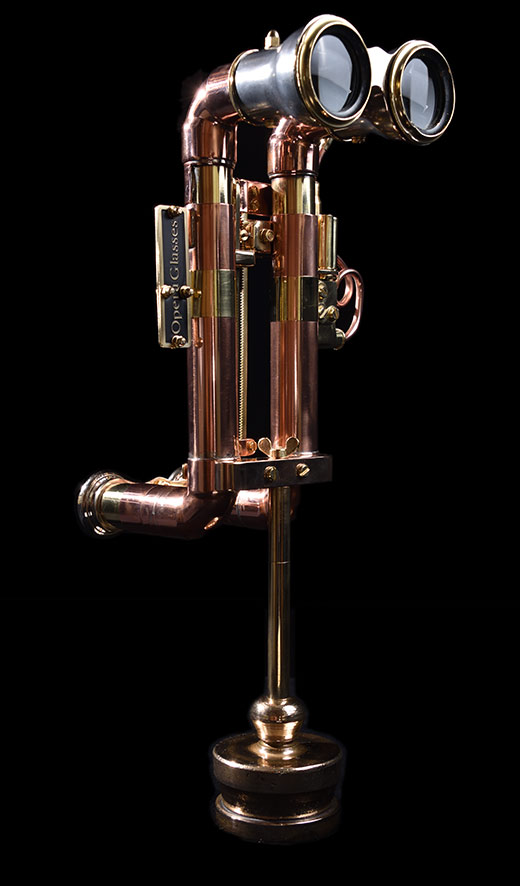 (Click on any image to enlarge)
Why is it that, whenever you have taken the utmost care to get a ticket for the best seat in the Opera House, you turn up and find a gentleman has taken his place in the seat in front of you who does not care to remove his top hat? Infuriating as that might be, there is now an answer to this problem, as long as you take along your Practical Hat Opera Glasses. These are designed to allow you to see over the top of the gentleman's hat, by siting the outer lenses considerably higher than the viewing lenses at the inner end - just like the periscope in one of those new-fangled submarine contraptions.
But what happens if the gentleman in front happens to be wearing one of those fashionable (but very tall) stovepipe hats, I hear you ask. Well, this fiendishly-clever device has a trick up it's sleeve - simply undo the clamping knob, wind the handle in the middle, and the entire upper portion (complete with lenses) extends upwards, sufficiently for you to be able to see over the tallest stovepipe - just re-tighten the clamping knob to ensure it remains in its extended state. And just in case the winding-handle fails, it incorporates a miniature steam/hydrogen-fusion radial engine to take over the extension duties. It's a marvel!
It comes supplied with a convenient stand, which facilitates resting it on the back of the seat in front, offering effort-free enjoyment of the performance.
Materials: brass, copper, opera-glasses, fire-hose parts, shell-cases
Dimensions: 6.75" wide x 7.75" deep x 11" high (17cm x 19.5cm x 28cm)
Height extended 14.5" (37cm); on stand 17" (43cm); extended on stand 20.5" (52cm)
Weight: 3lb10oz (1.64Kg); stand 2lb12oz (1.26Kg); total 6lb6oz (2.9Kg)
Practical Hat Opera Glasses from Nigel Williams on Vimeo.
I started out with the best intentions of making this device actually work, with prisms/mirrors at each of the elbows, etc - but I'm ashamed to admit the optical science involved in providing moving lenses to accomodate the varying focus required was simply beyond me - at least in a practical time-scale (which is my excuse, and I'm sticking to it). So perhaps the best use of this device is to allow it to lean forwards a few degrees on its substantial stand, whereupon its total weight (which is considerable) will cause the offending gentleman's hat to be dislodged and fall off, dispensing with the need for 'periscope' opera glasses!
This piece was shown for the first time in the Gloucestershire Guild of Craftsmen exhibition at Rodmarton Manor in September 2021, and was on display at the Guild's Gallery in Montpellier, Cheltenham for most of 2022. During August/September 2022, it was shown at Spetchley Park Gardens. From January 2023 it can be seen at the premises of independent optometrist Dr Valarie Jerome in Newbury, UK. It will also be shown at the Gloucestershire Guild of Craftsmen 'Crafts Alive' exhibition at Rodmarton Manor in September 2023.
If you would like to buy any sculptures or are interested in including work in an exhibition, please contact us for details of viewing and/or shipping arrangements.
New sculptures are being created all the time, and pieces can be sold or go off to exhibitions at any time, so please check back here regularly for updates.
For details of exhibitions of work by Nigel Williams, please click here.