Aerolex Tactical Optic
a.k.a. The Spy in the Sky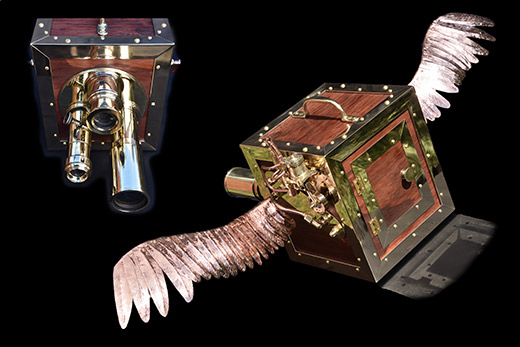 (Click on any image to enlarge)
With the invention and development of aviation at the beginning of the twentieth century, the military were quick to develop its use for reconnaissance during the First World War, taking cameras aloft in powered aircraft. If we wind the timeline forwards a little, we might come across those wonderful clockwork-powered Bolex 16mm film cameras, and the delightfully-complicated TV-studio cameras of the 1950s and '60s, all with multiple-lens-turrets. A little further, and we reach the tiny computer-driven drone cameras in common use everywhere today. If the Edwardians had been aware of all these things, THIS is what they might have come up with: the 'Aerolex Tactical Optic'!
This piece was obviously inspired by all these things, but also by the ingenious Dubroni No.1 camera of 1867, which incorporated a self-contained silver-plate developing-laboratory inside the camera! Polaroid, eat your heart out!
A robust white stand facilitates exhibiting it in its natural attitude, that is: flying!
Materials: brass, copper, wood, lenses, steam engine parts
Dimensions: 11" high x 35½" wide x 15¾" deep (28cm x 90cm x 40cm)
Weight: 17lb 13oz (8kg)
Stand dimensions: 19½" high x 20" wide x 20" deep (50cm x 51cm x 51cm)
Stand weight: 11lb 10oz (5.25kg)
This piece was shown for the first time in the Gloucestershire Guild of Craftsmen exhibition at Tetbury Market House in May 2022. During August/September 2022, it can be seen again at Spetchley Park Gardens.
If you would like to buy any sculptures or are interested in including work in an exhibition, please contact us for details of viewing and/or shipping arrangements.
New sculptures are being created all the time, and pieces can be sold or go off to exhibitions at any time, so please check back here regularly for updates.
For details of exhibitions of work by Nigel Williams, please click here.